vscupcakecouture.blogspot.com
Click Here to go to my new blog
I don't know if anyone ever read this blog, but go check out my new blog. Filled with fun stuff!! :)
<3
Hello!!! Loooonngggg time since last update.... but I've started a new blog at blogger.com :)
spring fever
! I'm looking forward to everything springy and summery. So why keep something I don't utterly
love
?
We went there and everything in the store was
30% off!
. I don't know how I didn't walk outta there with more damage. But I didn't, I stayed strong. I could have walked outta there with another beautiful purse I seen but I stopped myself because it wasn't something I really wanted. But I did manage to score this adorable cupcake underwear set!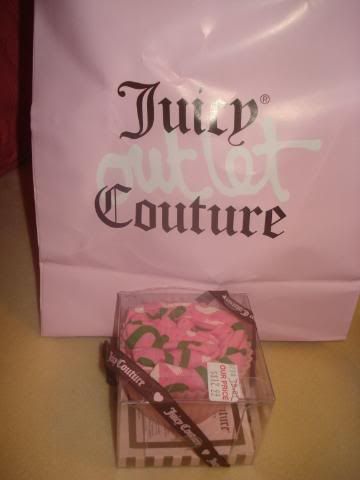 Look you can actually bake with the cupcake!!! Even my cupcakes will be couture now!!!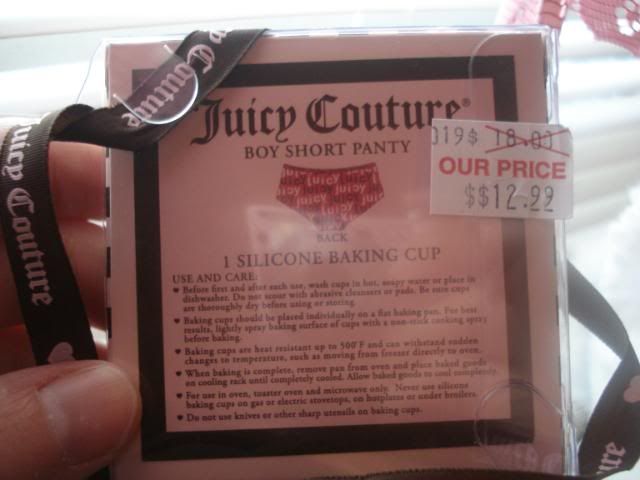 That's all I walked outta there with. I was quite proud of myself. I'm desperate for one of their tracksuits... but I can wait.
Then we headed to the Lehigh Valley Mall for the purse I really,
really
wanted! First stop....
Bebe
I've never had a Bebe purse, so the thought just excited me. I seen this purse awhile ago online, and i said to myself,
"That'll be my spring purse"
Walked in there, and there it was. The last one, and the color I wanted. It was meant to be. :)



I believe my collection of purses is growing just nicely...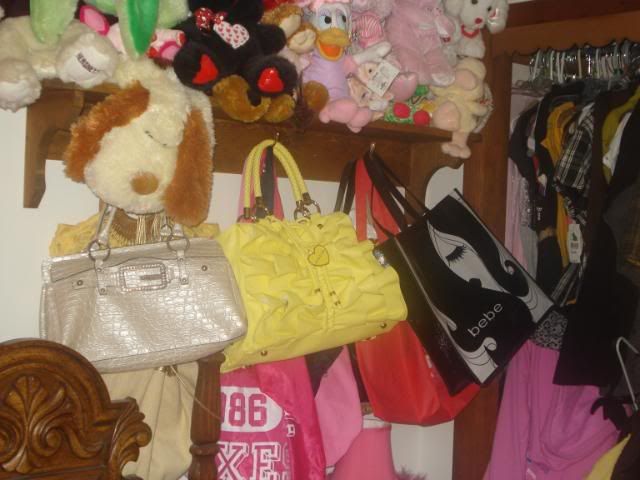 I also went to Forever21 and scored some cute stuff: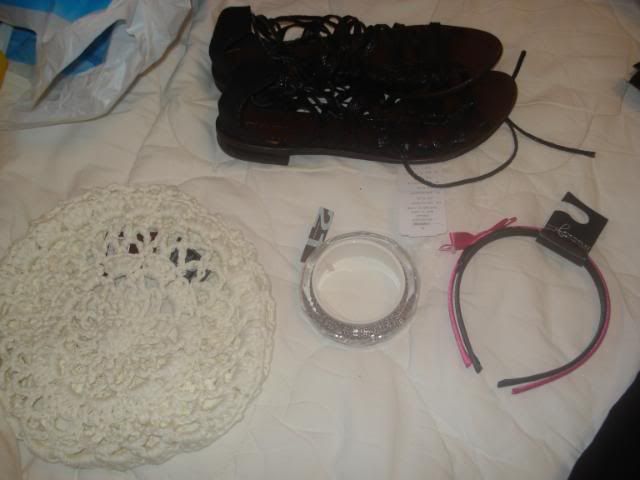 These are adorable on! I can't wait to wear them!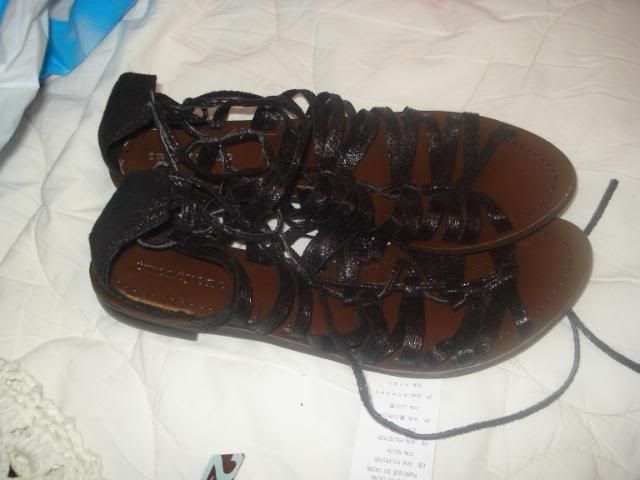 After I got done shopping John and I headed to Boston Market... MmmmmmmmMMm We sat and talked and then we just decided to go to
Atlantic City
for the nite! Surprise road trip!!! We didn't even know if they had rooms available. I called the Hilton and Ballys on the way down and there were both booked, then i called the Ramada and luckily they had a room! So we stayed there for the night... Then the following day we were off shopping again... Unfortunately I forgot my digital camera so I don't have any pics from that day, I ended up buying a disposable camera so I still need to get the pictures developed...
First we went to this store called Rainbow... didn't really like much besides these:

I think they'll be good for work or dresses...

Then we went to this random store and I found this adorable jacket/shrug... I'll wear it with pencil skirts and the such..
Then we headed to the Atlantic City Outlets and I went to the beautiful H&M and I found so many adorable things, but unfortunately there was a huge line and I didn't want to keep John waiting so I passed, and now I'm regretting it. :( Then I headed to this shoe store I was out previously and picked up for sandals...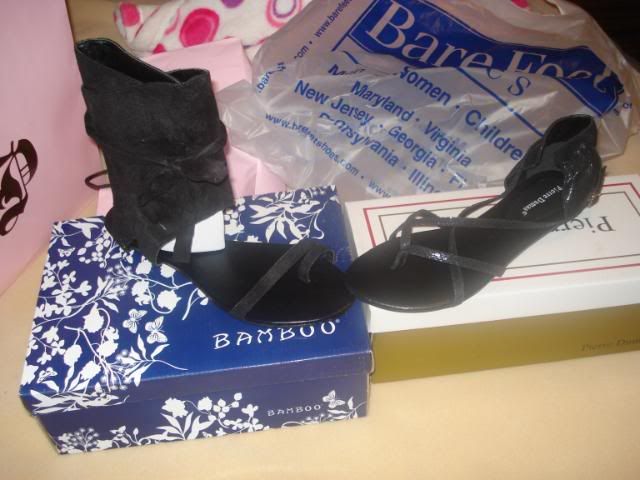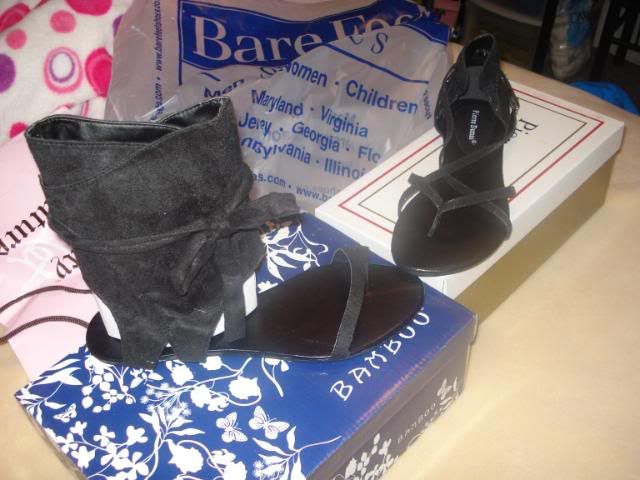 I told you I had spring fever! lol
Oh I also picked up these too.. 2 nail polishes with the fine tip and a brush to brush off the hair on the guys necks when I cut their hair... They've been complaining forever... so it was time... lol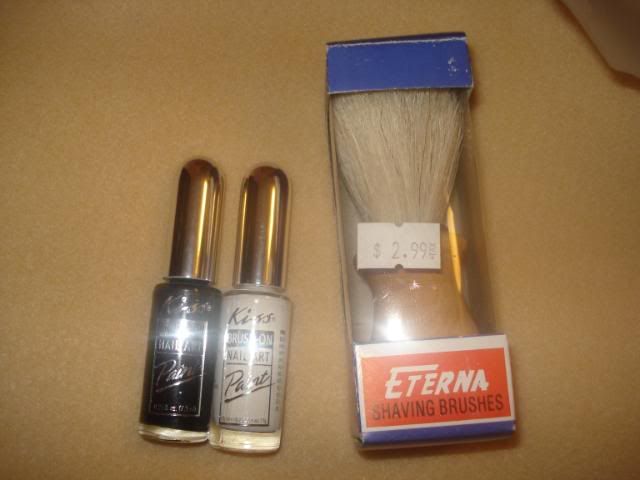 Then we headed over to the ship mall in Atlantic City and John bought me my first item from Betsey Johnson... I seen this online and I really wanted it, but wasn't going to pay $65 for it... when I went there it was half off!! It's so me... a
cupcake necklace
!! I can't wait to wear it, isn't he awesome! I also love the presentation of it as well. :)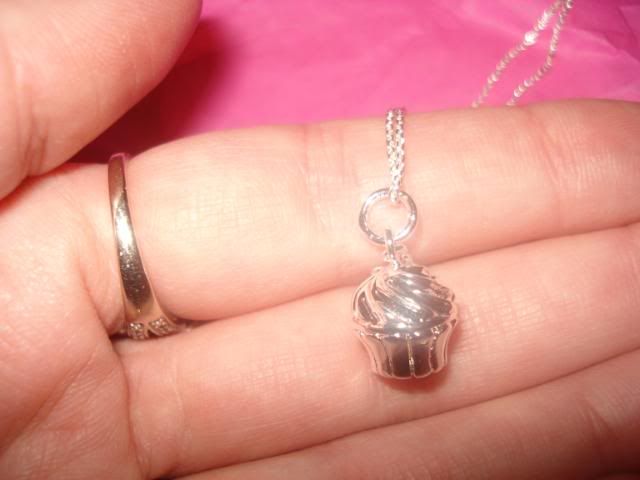 </center>
Then I headed over to Juicy Couture... of course. I scored an awesome deal on these and I'm so excited! My first pair of Juicy shoes....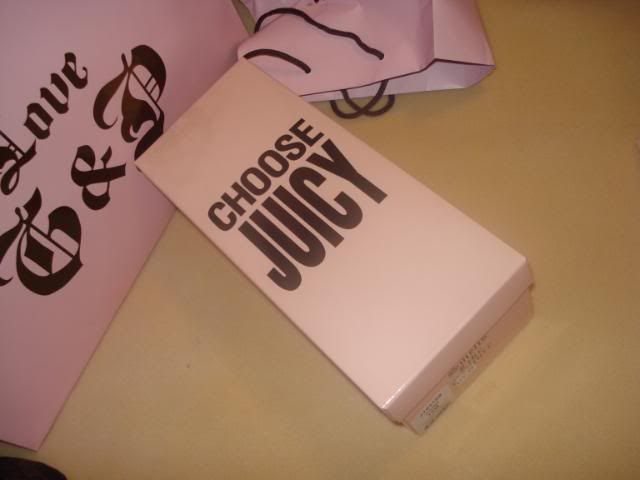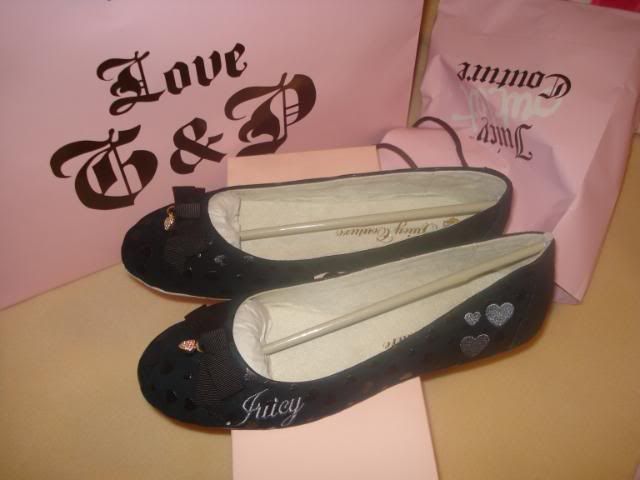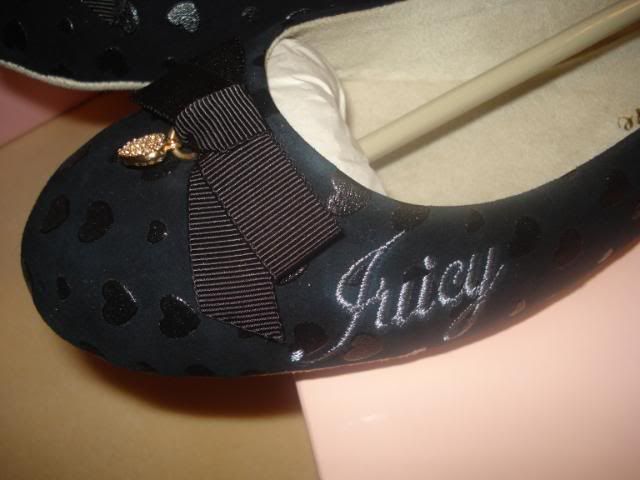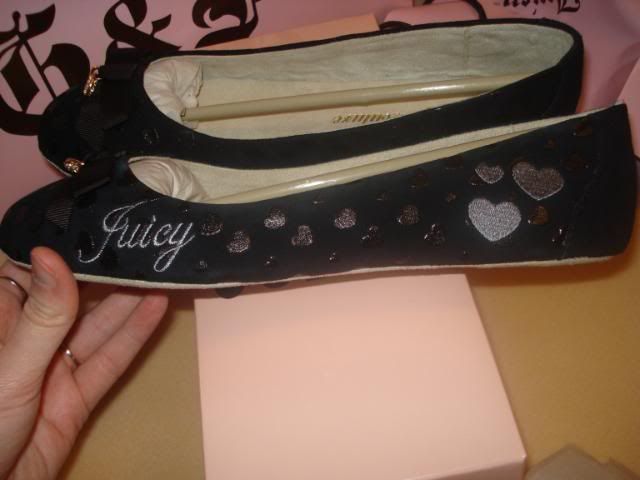 They're super comfy too... not stiff at all... Adorable!
Then when we came home.. I came home to this: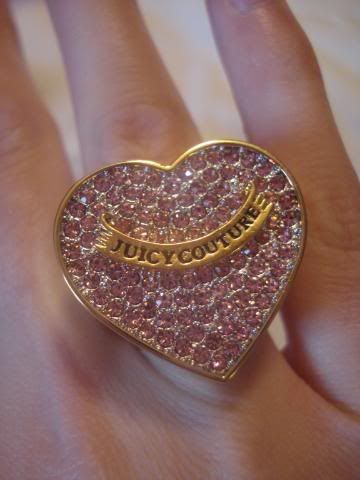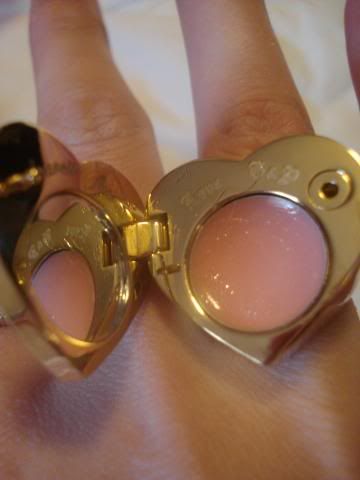 John bought it for me for Valentines Day!!!!! It's soooo cute. it's kind of big .. but I'll manage... I love it!!!
Today I decided to clean my room, because I came home to this...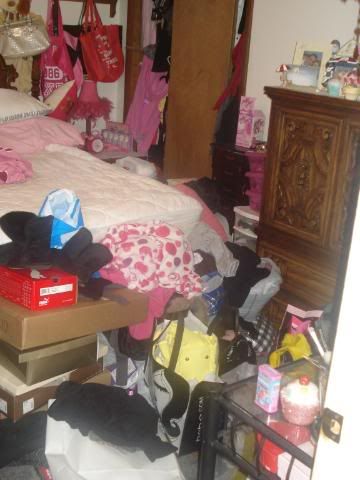 I keep shopping, and shopping, and shopping, and
shopping
I don't have enough time to put everything away, and this is what happened over a months time. I could be so lazy sometimes, so I cleaned everything up to the best of my ability. Soon I'm going to go through every single item of clothing and decide if I
really
need it... because this is getting out of control. I'm even thinkin about puttin myself on a strict
No clothing purchases for a month
. I'm seriously considering it. I have far too many clothes... it's ridiculous... and I'm being serious.

Here's some of my coats... coats I don't even wear!!! And theres more in the laundry room downstairs I don't wear. This is insane.. and unnecessary! I'm serious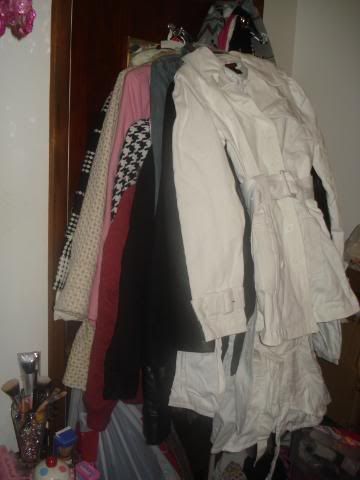 The complete mess of everything, I'm even embarrassed to even post these... but maybe looking at them will make me realize, I don't need anything else! Let's hope.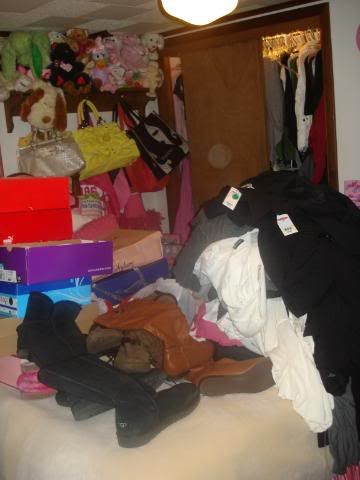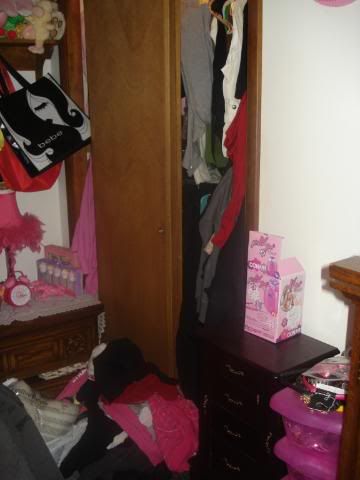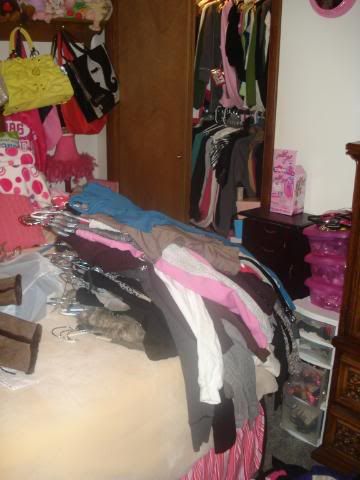 Recently I've been on a shoe-kick thanks to my friend... and now I'mnot able to fit them under my clothes anymore.. it's gotten so bad... but this is my closet organized... a tad


So there's my mess of a closet... I still have clothes folded on my floor that need to be hung, but there's no fitting them in there... no way. *sighs* Unbelievable... let's hope the boyfriend doesn't see this. :-/
On friday, John gets outta his class and offers to take me shopping. What girl is going to say no to that??? First we went to the Tannersville Outlets. They just opened a Juicy Couture Outlet there so I was excited about that. I also decided to take back my black Juicy Couture purse I got when we went to the Philadelphia Premium Outlets. Why? I decided that I wouldn't get much wear out of it because spring is right around the corner and I'm having
Came home and browsed the web to find this wonderful Tee by Wet Seal

WetSeal.com I love my cupcake Tee $14.50

Defines me very well... I may just have to order, or maybe even take a trip up there. Maybe next weekend I'll take a trip up to the mall. We'll see. Anyway, just wanted to stop by and say hello! Going to bed now, goodnite!
Hello! The boyfriend and I took a little mini-vacation this weekend. More like a shopping haul vacation. He's too good to me :) I'm hoping to post pictures tomorrow of everything.. did some major damage.. hehe
So I bought this book a few weeks ago, and I've been reading it here and there when I have a chance. Normally I could zip through a book in a few days if I'm truly interested in it. Obviously, I'm not with this one. Which is unfortunate because I was so excited for it! I don't really know much about Victoria Beckham, nor do I follow her closely, but when I heard about this book I thought it would be a lot better than what it is.
As unusual as this is, I'm going to do a book review on this. I'm half way through with the book and I'm
annoyed
with it. I am. I don't have a lot of money, and I don't come from money. So when I read this book I feel poor. Ok, maybe I shouldn't put it that way... I feel like when she wrote this book she was kind of promoting her jean line(something I'll never afford) I also feel like she gives good tips on certain things, and on other things she kind of bias. For example, I had to skip over her little fetish with high heels. Unfortunately not everyone is able to pull off the super-high-heels. And she kind of makes it sound like people don't look right in flats, or it makes their legs look bigger if they wear flats. With this chapter I'm highly annoyed, I couldn't even read it.
Also at the end of each chapter she gives a list of good places to go to find good fitting merchandise. About 98% of those I could never afford!!! I don't have the money like she does and I'm assuming the rest of the world doesn't either. Unless I'm just super poor, I don't know, but I don't think a lot of girls my age could afford the stuff she mentions in her book.
I felt like she did give tips, but I also feel like I couldn't relate to her, like I wasn't on her level... I don't know. I wouldn't recommend it to her. I guess when I bought the book I had a different expectation. I thought she would give good tips and show better ways to dress, but most of the pictures are hand drawn, unreadable pictures, or her in just a skirt and a bra... Whatever.. lol
Snow



Las Vegas



Just Green



So Pretty



Coral



Glam Gold




There is soo much you can do with the glitters!!! From your eyeliner to your eyeshadow to just a hint underneath your brow bone, to the corner of your eyes to make them pop, to even on your cheeks! You can use it to mix with your lipgloss to give your lips some sparkle, or even just over your lipstick. Hell you can throw it in your hair!!! For .95 I couldn't resist! I was going to show different ways of doing it, but I think it would be a waste of time.
So I recently discovered this GoJane.com website and I am absolutely loving their sandals! Super-cute and super-cheap!! My two
favorite
things. :) I'm so in love with the flat gladiator sandals and the around the ankle strap.
LOVE♥

Umm... $12.70? Who can beat that! I'll probably snatch these babys up soon.

I just can't bare to think summer in like here so soon! I still have boots I did not even wear yet. This is bad! lol
So a few days ago I showed how I got some NYX products. Well I took some pictures on the NYX Glitter On the Go's so you can better see what the colors looked like. Like I said I got them from an outlet who had clearance and these ended up only being .95 a piece. It was a cosmetic outlet just not CCO. But anyway here are the pictures:
eventful
weekend. Friday was my good friend Lindsay's
24th
birthday! So you know there will be an exciting night out for that. Then Saturday was Valentines Day, and then Sunday was my good friend Natalie's Baby Shower/Birthday party.....
2~13~09

So on friday John and I headed up to Dickson City to see if Suburban Casuals had the Juicy Couture charms I was for Valentines Day. I want the dozen of roses charm along with the Teddy Bear charm...

But they didn't have the ones I wanted :( Although they did have something I liked... I still need to see if it'll fit my laptop....
Juicy Couture Laptop Bag for $30.00!!!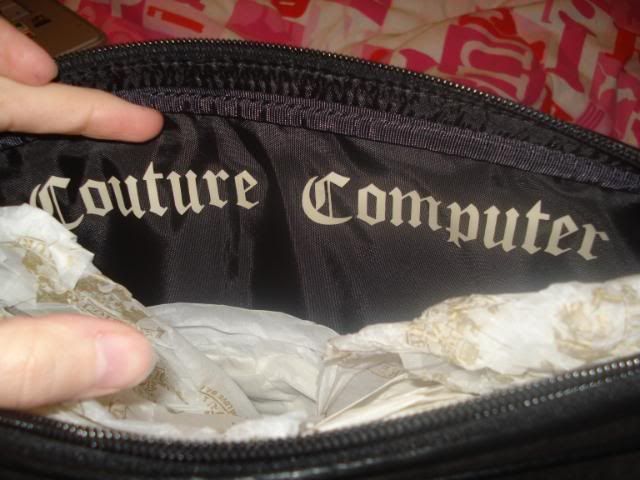 Later on in the night my good friend Lindsay decided to celebrate her birthday at a new bar we've never been to called
Bourban Street
.... Ha! Complete joke. There's these 3 bars that connect the other 2 were called The hardware bar, and then reflex. Ok so Bourban street is all
rock
music. BLAH! With random mattresses in the back... confused me, but whatever, Hardware had good music, but had TRASHY girls. Girls dancing on the bar that had poles on it mind you, with just bras on, and pants... ummmm? The point of that is??? How do those girls even live with themselves, I'd feel so
low
but hey that's just me. Then Reflex is like this 80's bar with disco balls. That one I didn't mind. But OMG, never again. I came home smelling like smoke, and I felt disgusting, loss of hearing, it was just horrible. But the girls and I tried to have a good time...

left to right: Me, Adrienne, Marissa, and Michelle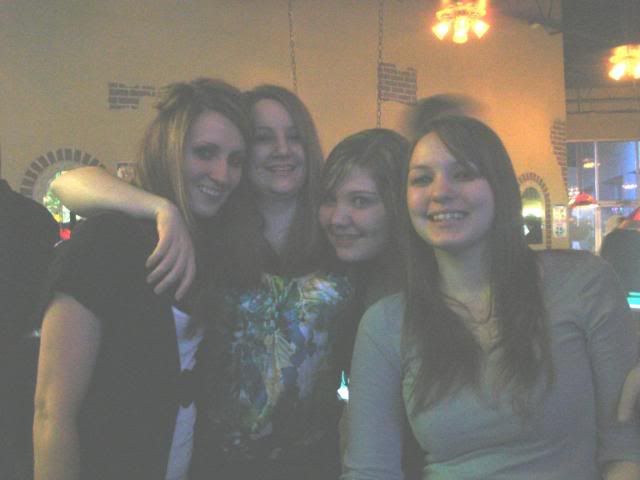 Later added was Heather with the blond hair and Lindsay the birthday girl!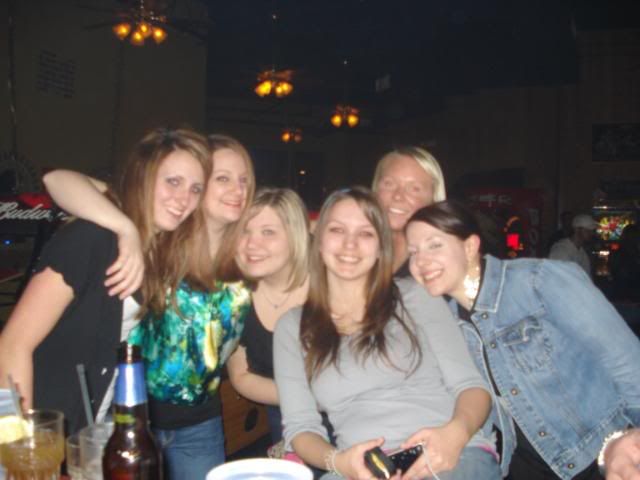 So that was my friday night... eventful
2~14~09

Happy Valentines Day!!!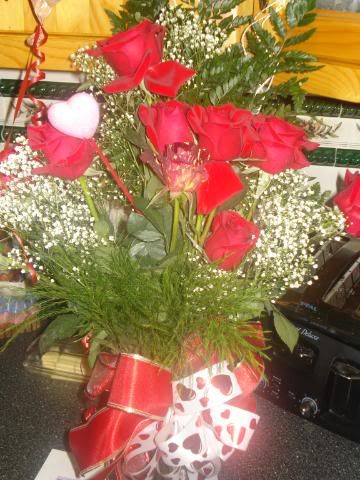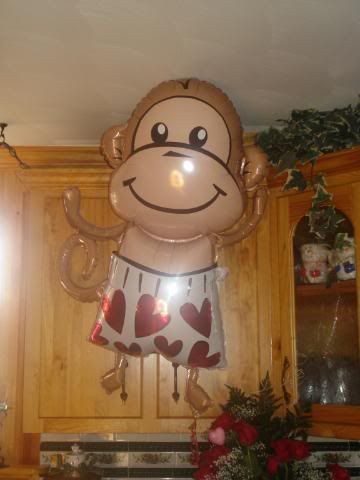 John and I ended up going to Red Lobster and then we went to see Confessions of a Shopaholic!!! Needless to say after seeing that movie I needed to buy myself a green scarf! (when you see it you'll understand) So the wonderul boyfriend allowed me to go shopping for one. He's the best.. :) As soon as I walked in the store there it was, just sitting their on a mannequin as if they knew... So I scored won, along with a cute belt and headband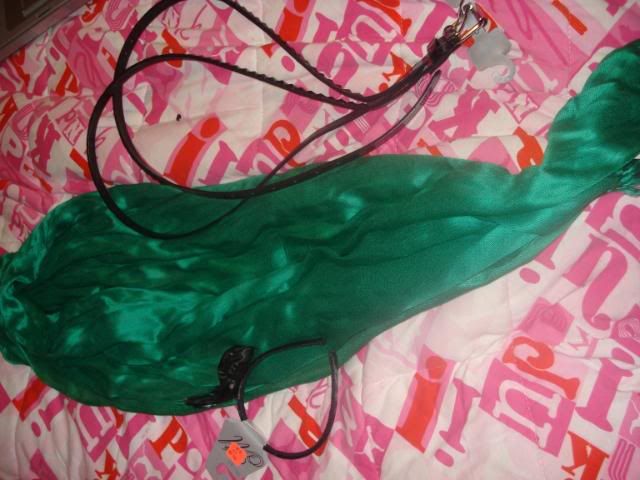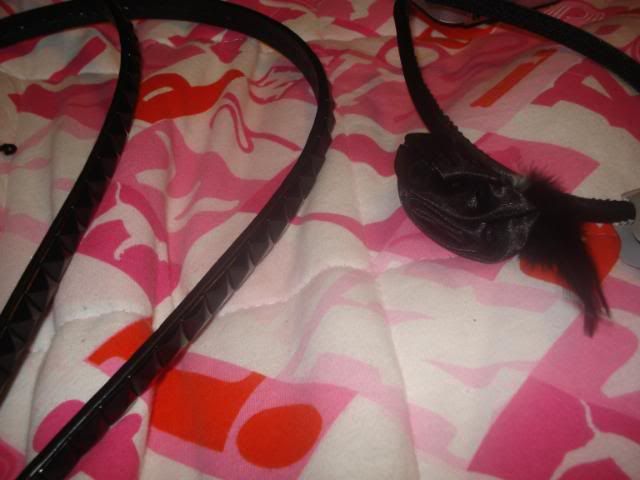 Rocking the scarf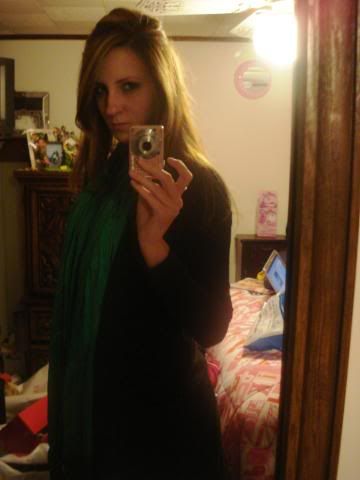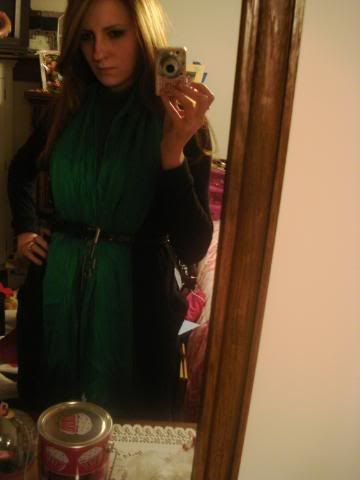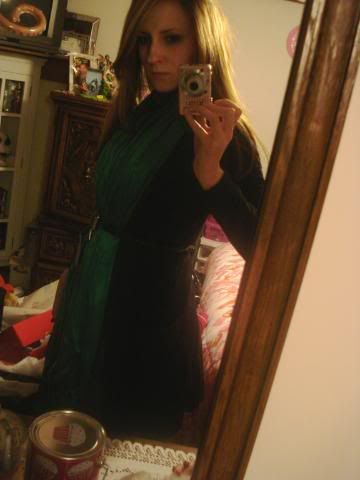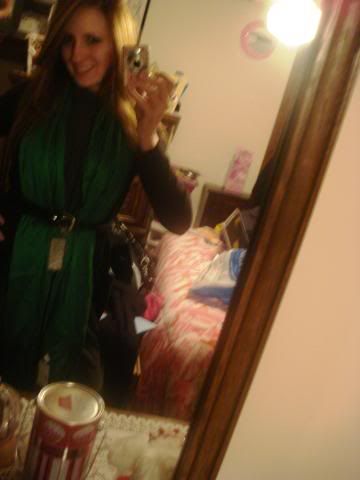 Lovveeddd that movie. Hoping to go again with the girls just so I can see it again... I'm even thinkin about trying to do her hairdo throughout the movie. It's adorable and its different and it's something I've never done before.. So I'mma attempt it tomorrow. I've been thinkin about it all day :) Not to mention I love her outfits, which makes me want to go shopping... UGH! lol


Later that night we went to the casino for some shameless gambling, and a few drinks with friends. It was a pleasantly good time. :)






2~15~09

Today was my friends babyshower/birthday. She is due next month and I'm super-excited for her, here's some photos from that event...





Left to right: Me, Natalie(the birthday girl), and Krista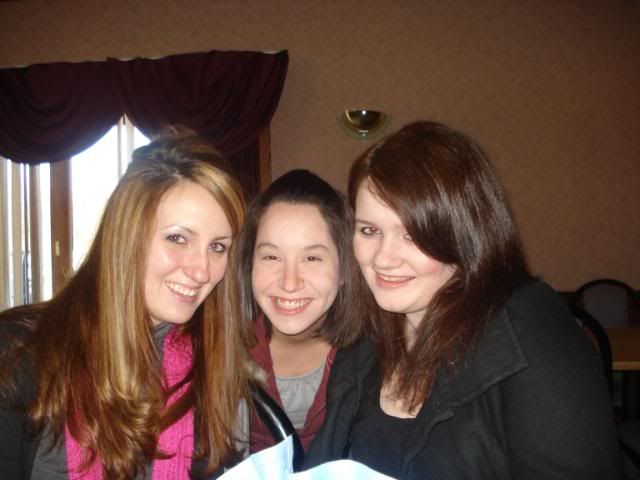 Lindsay, Natalie, and Krista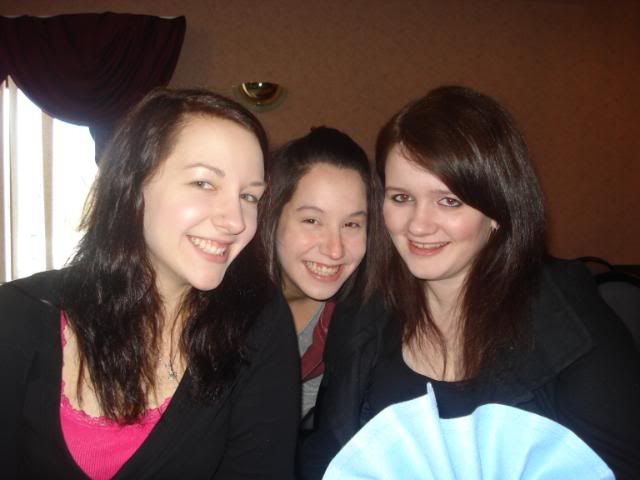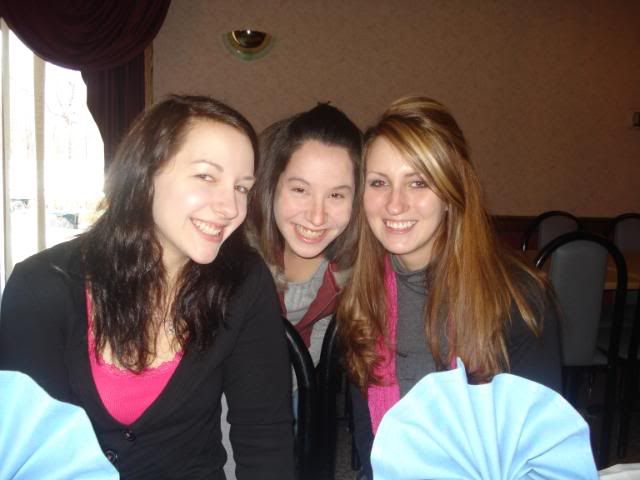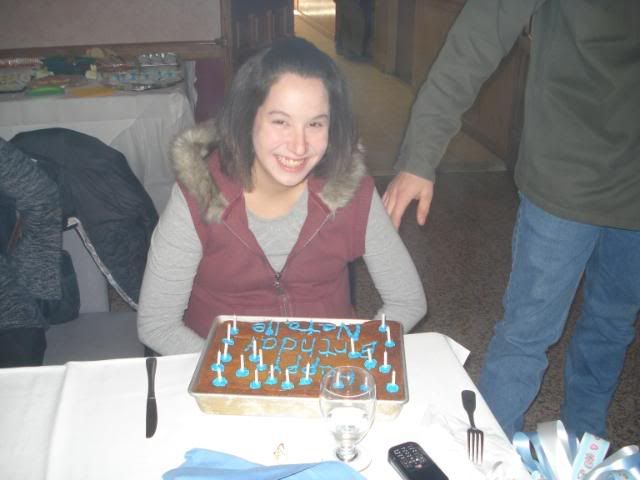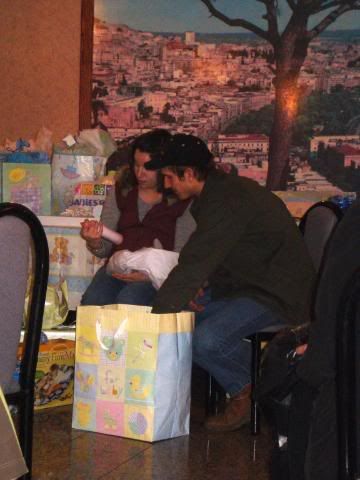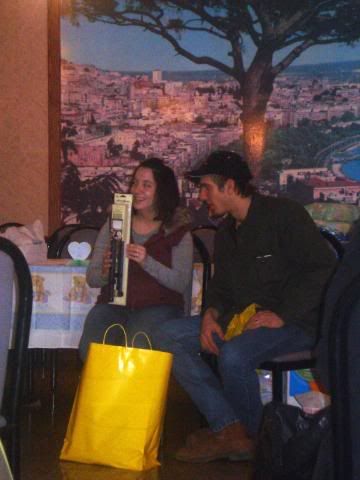 And that concludes my eventful weekend. I'm off next weekend and we're thinkin about heading to NEW YORK!!!
So I had a very
Need For Speed LA
.. Ya, me playing video games.. lol... Needless to say I fell asleep as his house, which was nice, although I woke up in a panic because I had nothing packed, nothing ready, didn't shower, and prolly smelled like doughnuts from the night before... So I quick and got ready and we were on the road... We got there around 4:00ish, and ate at the Ballys
Virginia Buffet
, I believe that's what it's called. If you ever go to Atlantic City, make sure you check it out, food was
AH-MAZING
Steak, shrimp, crab legs, chinese food, polish food... ohhh I was in
heavennn
! Then we decided to go shopping, yes on
his
birthday he wanted to go shopping! I wasn't going to complain....
2~6~09
$9.99</b> Originally $32! They're my favorite, make me feets warm!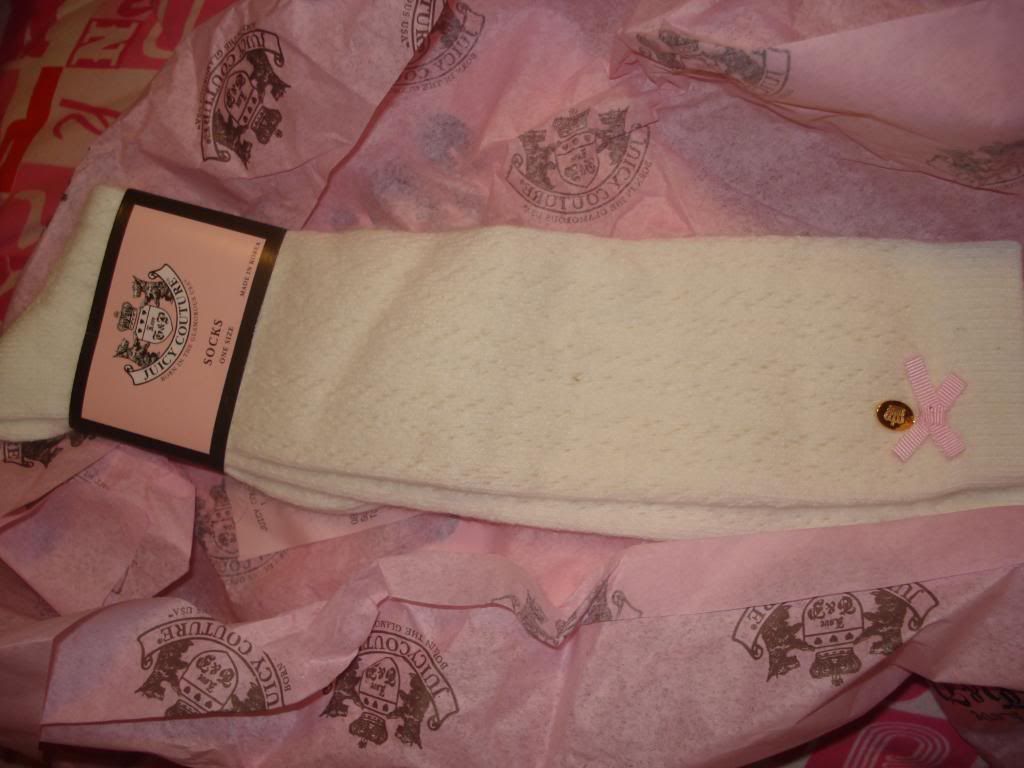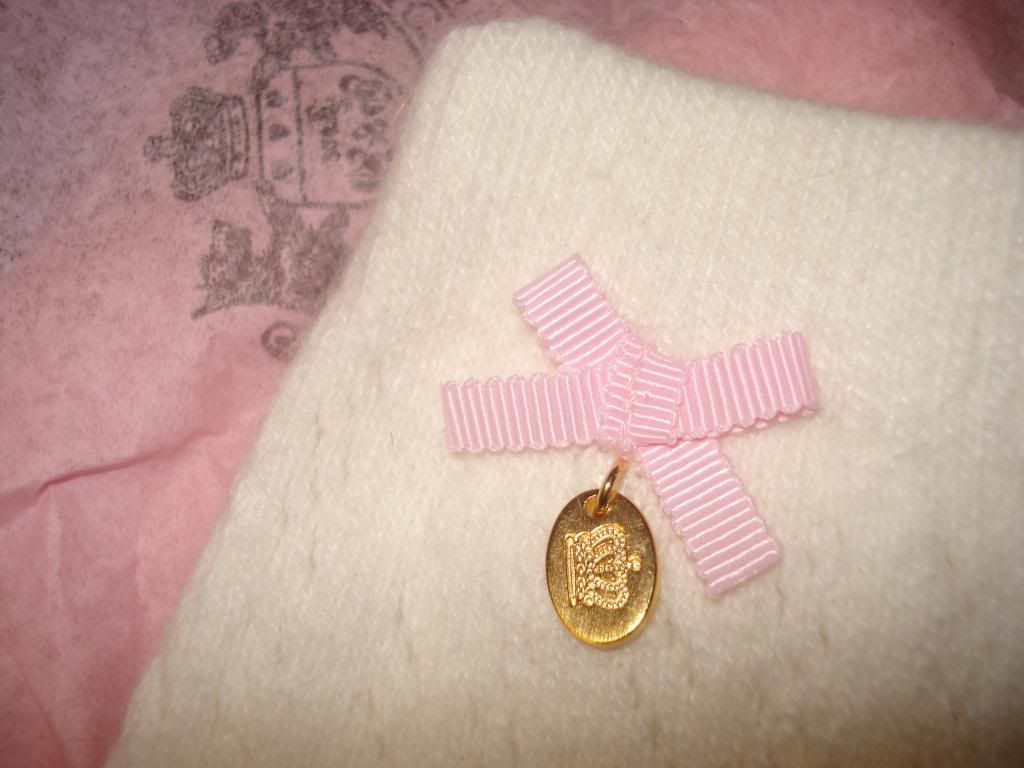 We then walked over in the freezing cold to the Outlet stores. So cold that John made me buy a pair of gloves because he was sick of me stealing his warmth! lol... I even scored a pair of cute grey boots!
I made John take a picture outside the outlets...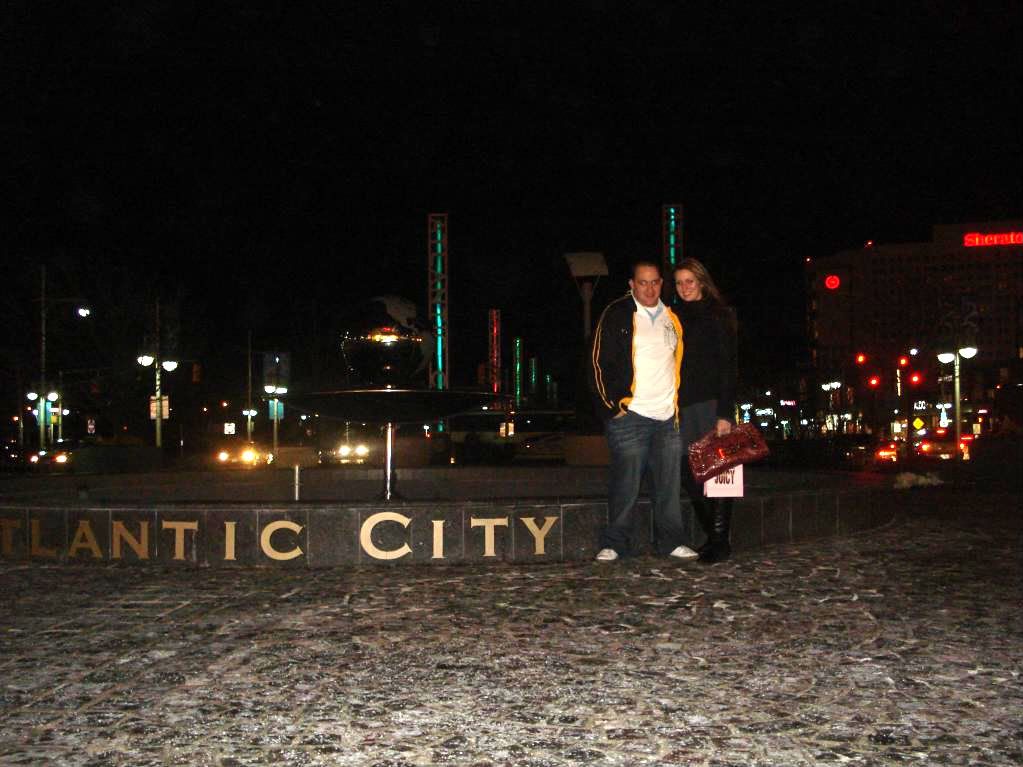 We then headed back to the hotel and we took pictures together... it's our little tradition... haha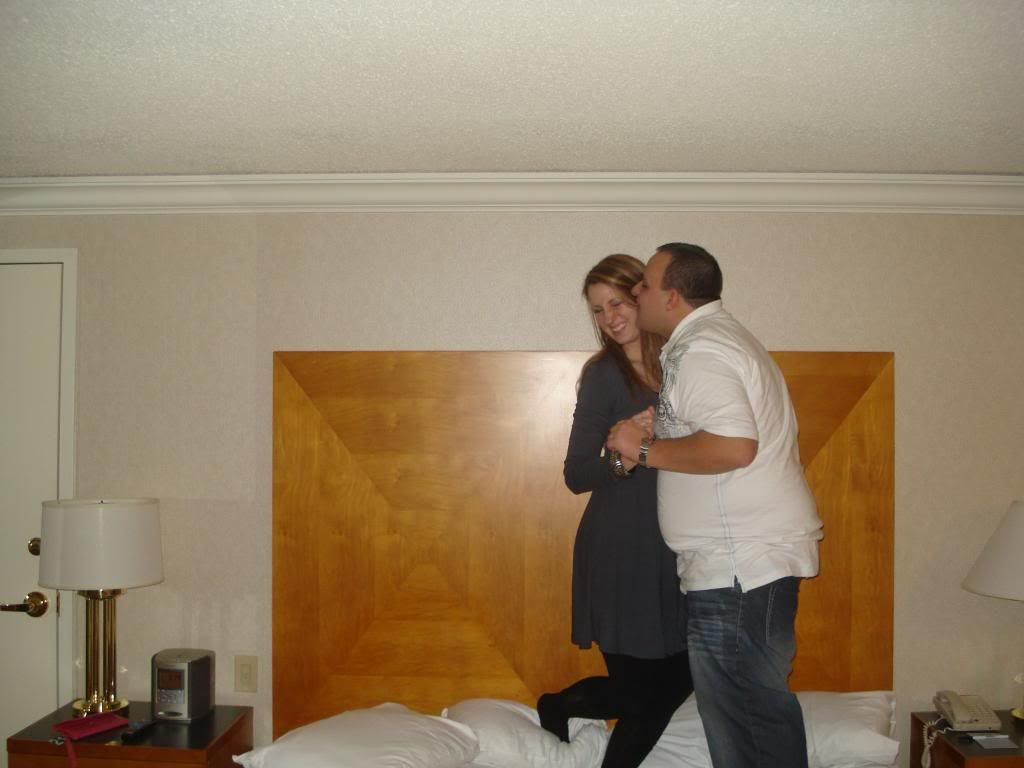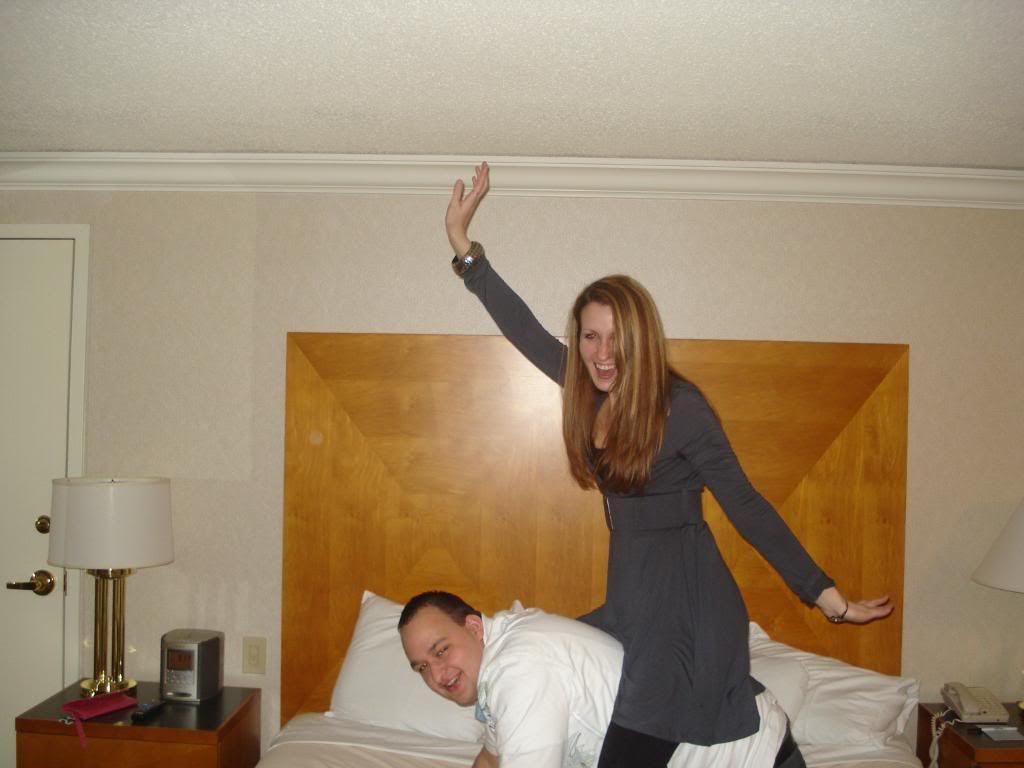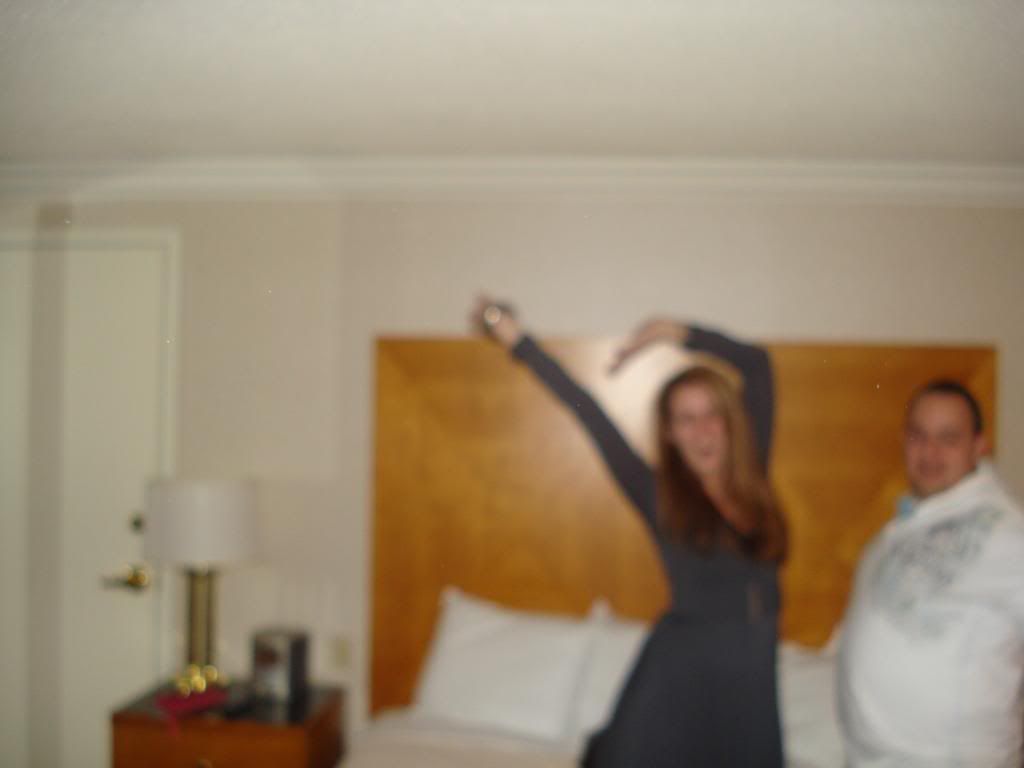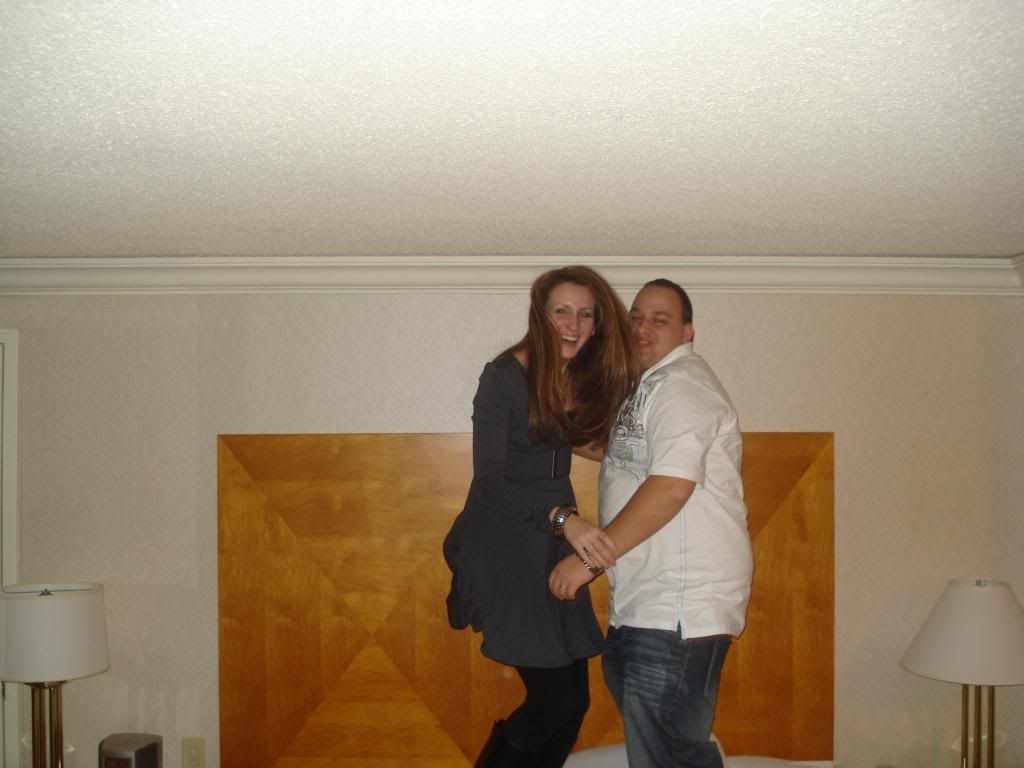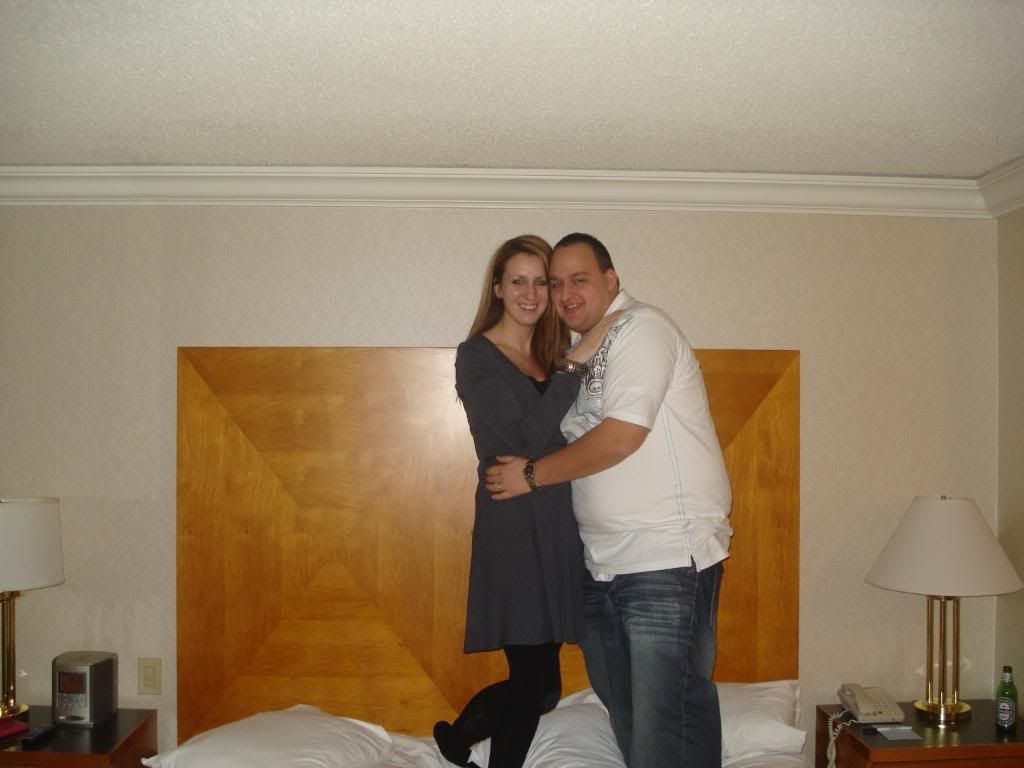 Yup, us being silly... haha. Then we went downstairs to drink and gamble... guess who won big???
JOHN!
$200!!!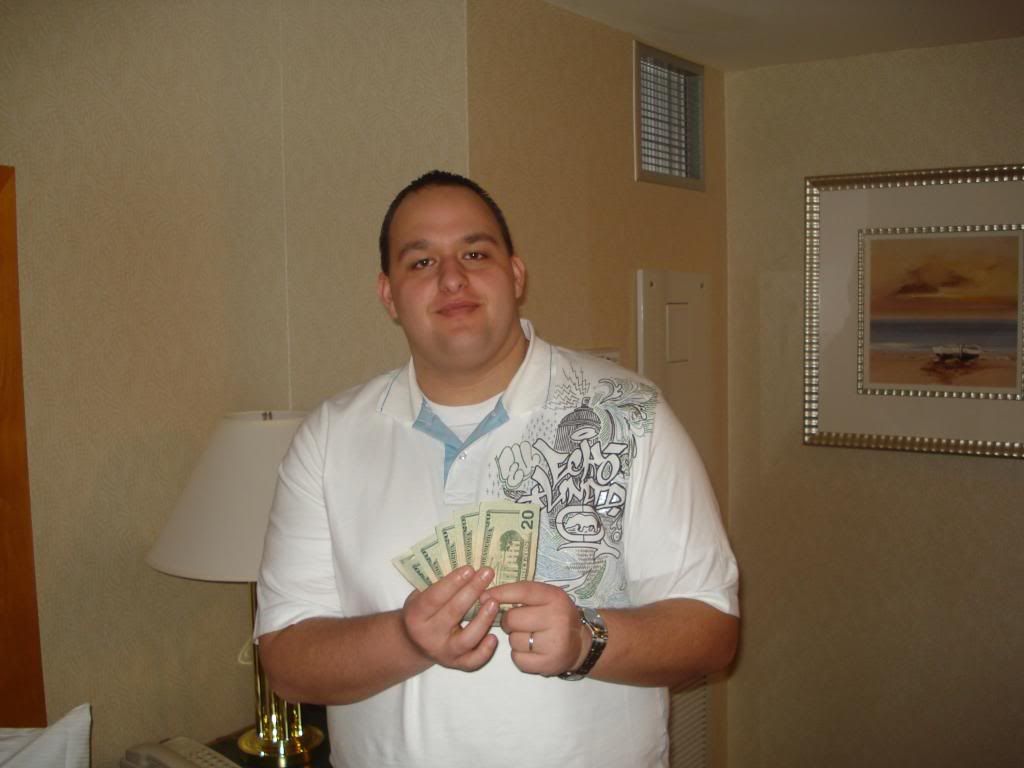 2~7~09
The following day we decided to do some more shopping and I got 3 adorable dresses, and a belt. The brown dress I'd like to wear with my Juicy Couture boots, the black one I want to wear with my grey Uggs(got them for christmas and I still haven't worn them, how sad is that!), and the cream colored one I'd like to wear with my long black cardigan, and black tights, and black boots! Super cute, and super
cheap!
I also got a cute belt for 4.99!!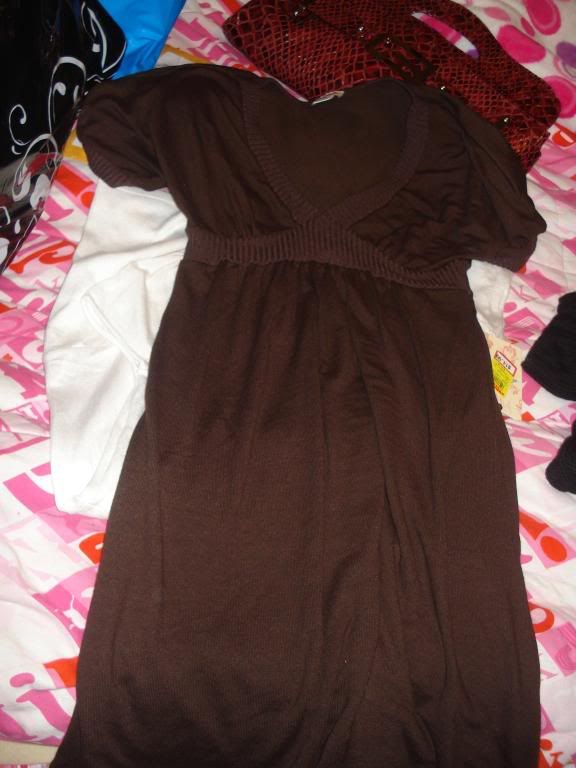 2~8~09
The next day I was able to go to
Philadelphia Premium Outlets
I must have went on the perfect day cause I was able to get sooo much...
I guess I'll start out with the Puma's I got... The two white pairs I was able to get at $35!!! Originally $59.99 with an additional 40% off...!!!! The black pair I got for Christmas thanks to the boyfriend, and no I still haven't worn them... I need to get on that, they were like $70 from Neiman Marcus... ek..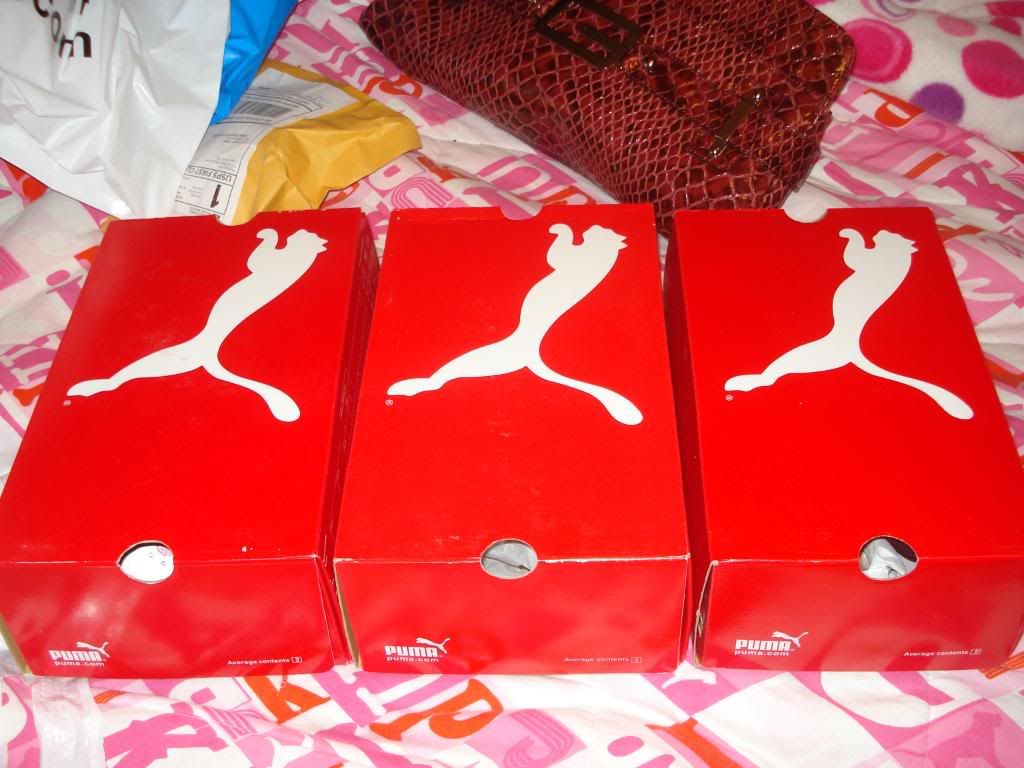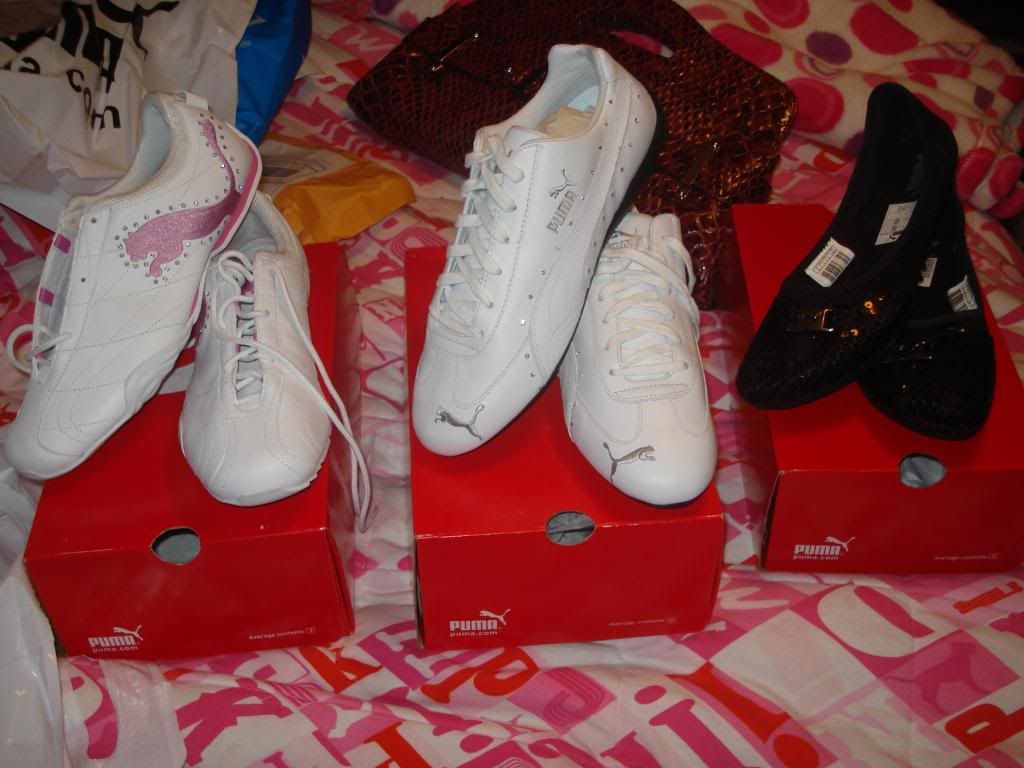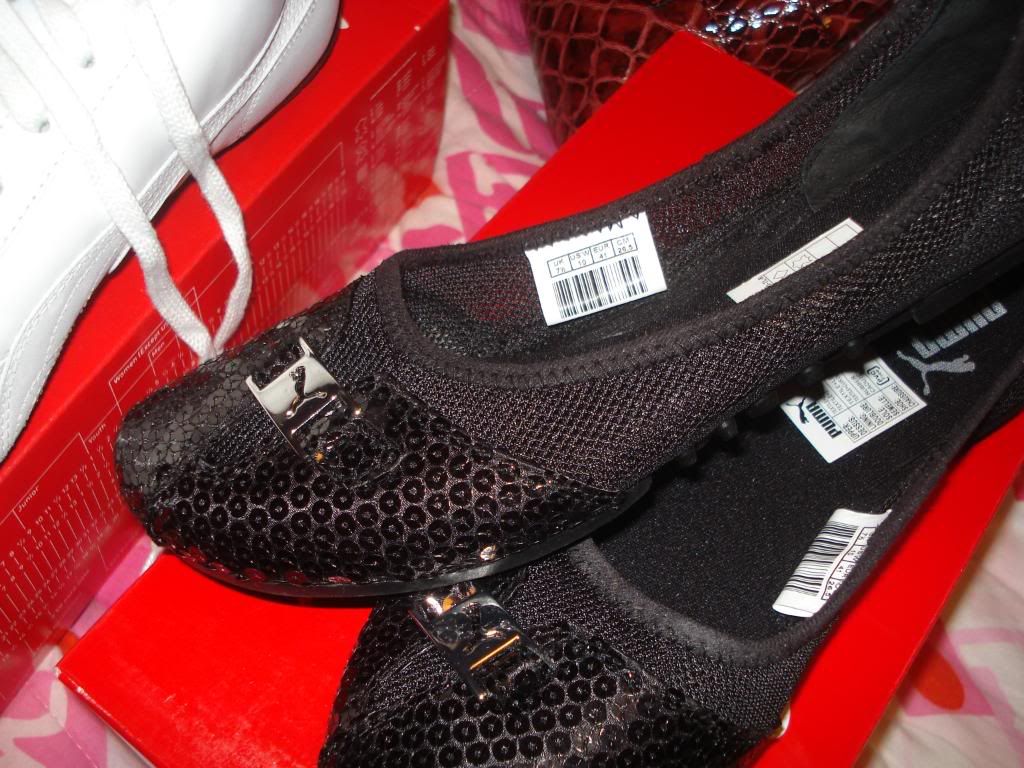 Yup, my little collection of Pumas... :) Moving on... went to the Guess Factory Store, found an adorable coat for $30! Was $59.99 marked down with an additional 50% off! How could I not? Besides I need a casual coat for when I wear sweats, I have all nice coats for work...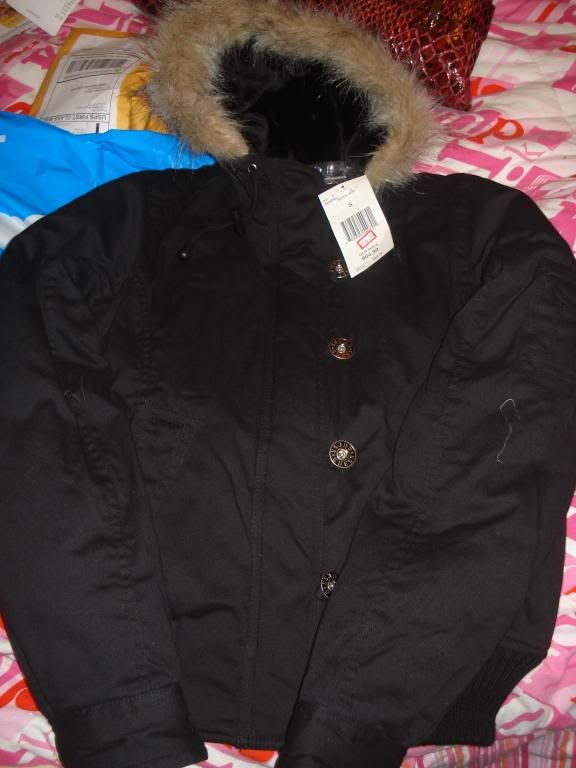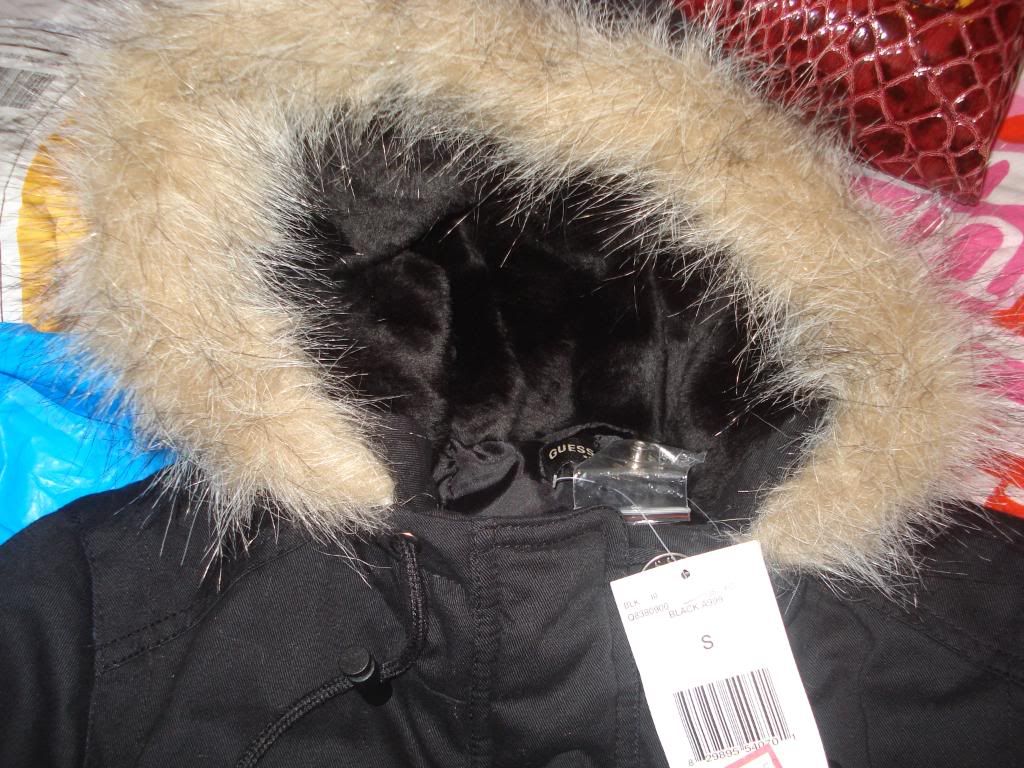 Then I went to this store with makeup and perfumes.. forgot the name.. but I got a ton of NYX for .95!!!!! I think the girl wrong them up wrong but score for me!!! The most expensive is the eyeliner which was $5.00, everything else was .95!
I went to Charlotte Russe I love browsing their clearance racks because I usually score things for $2.99-$6.99 I got a ton of stuff! The most I paid was $12.99 for the tweed skirt, but hell it's only $12.99!!! Uhhh???

Longer length leggings with a zipper in the back, can't wait to wear with flats!




Skirt I paid $12.99 for, but it's so adorable and fits like a glove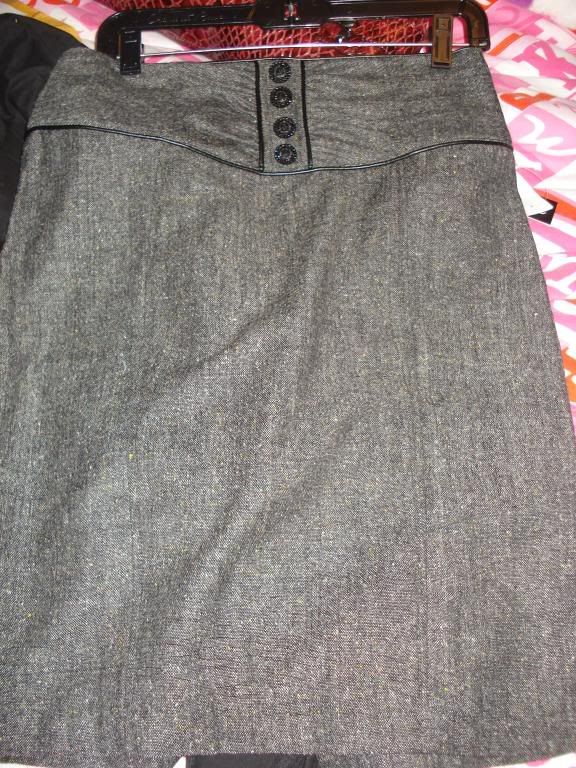 $2.99!!!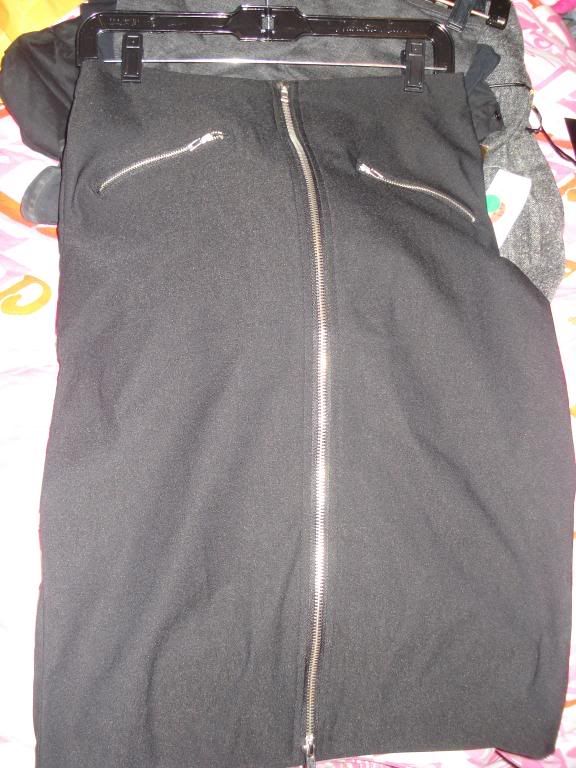 Then I was off to the
Juicy Couture Outlet
store...

Super Cute tights with a strip down the back, how hot is that gunna be!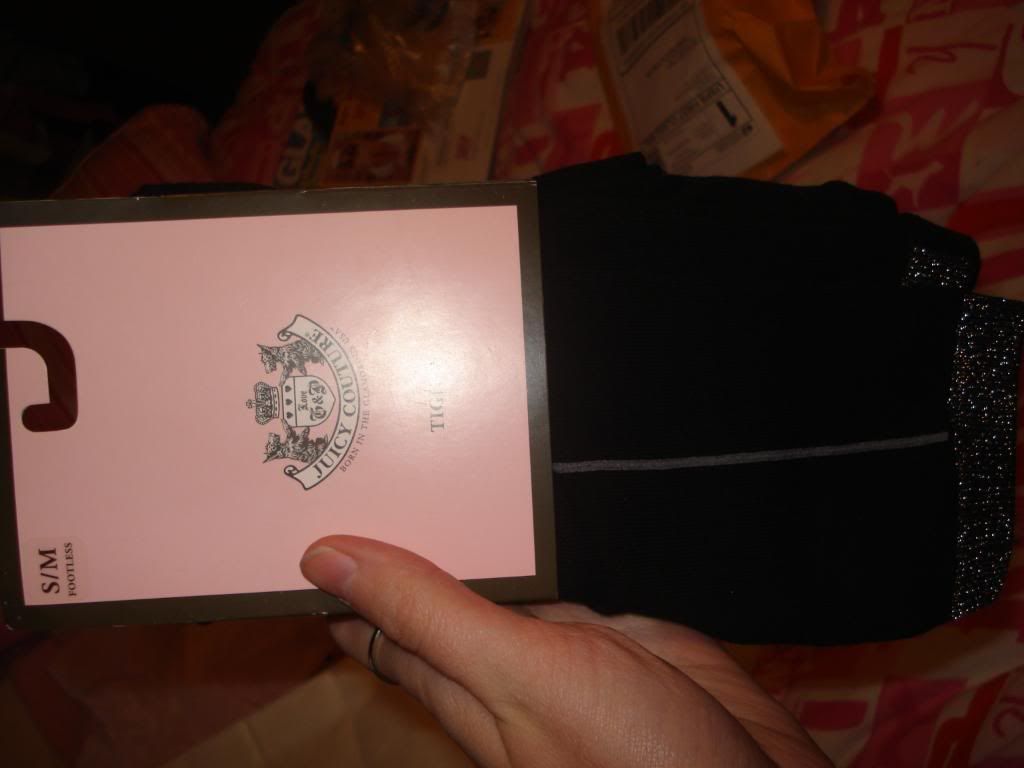 On clearance!!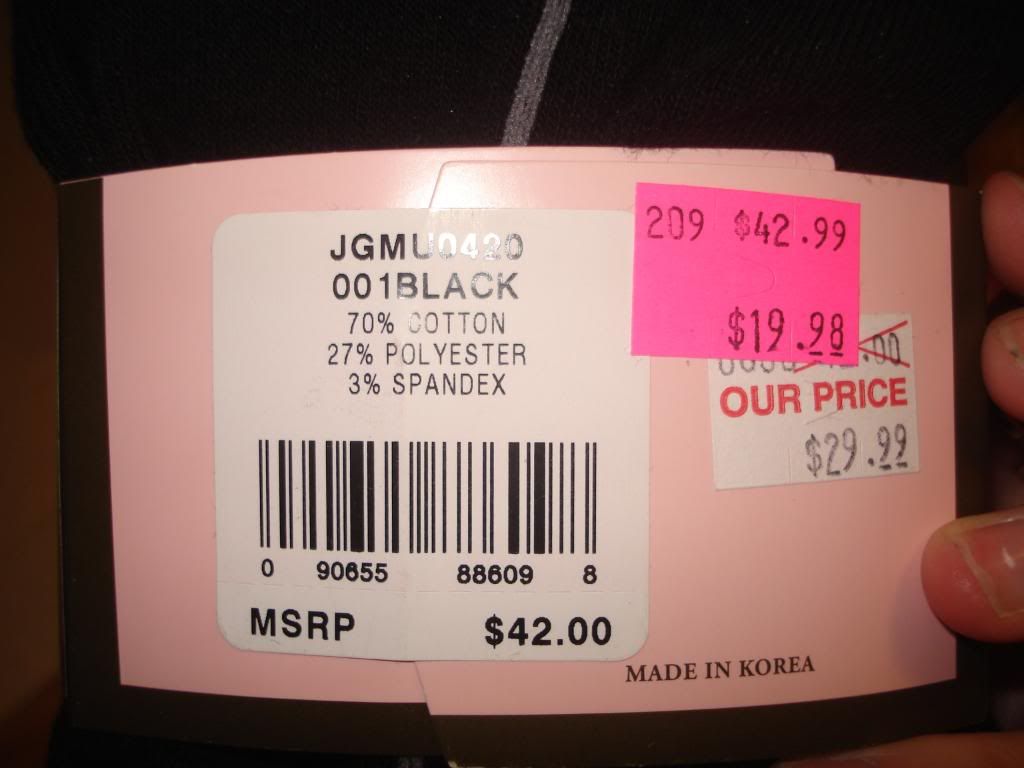 Then the best purchase of all............
My new Juicy Couture purse!!!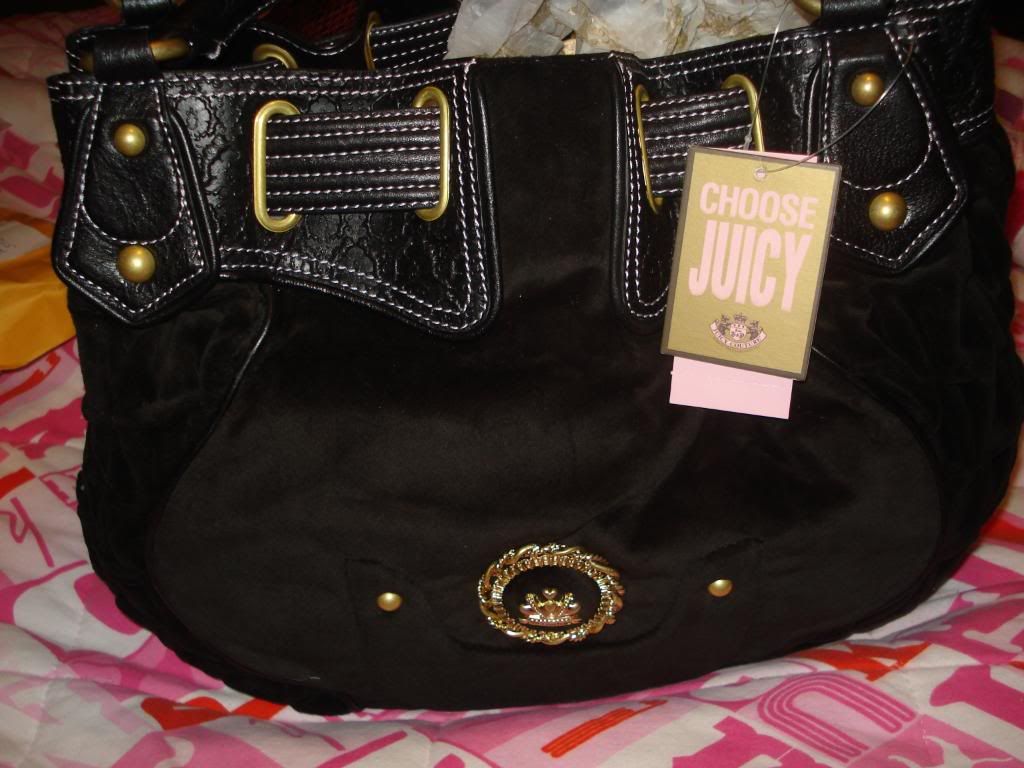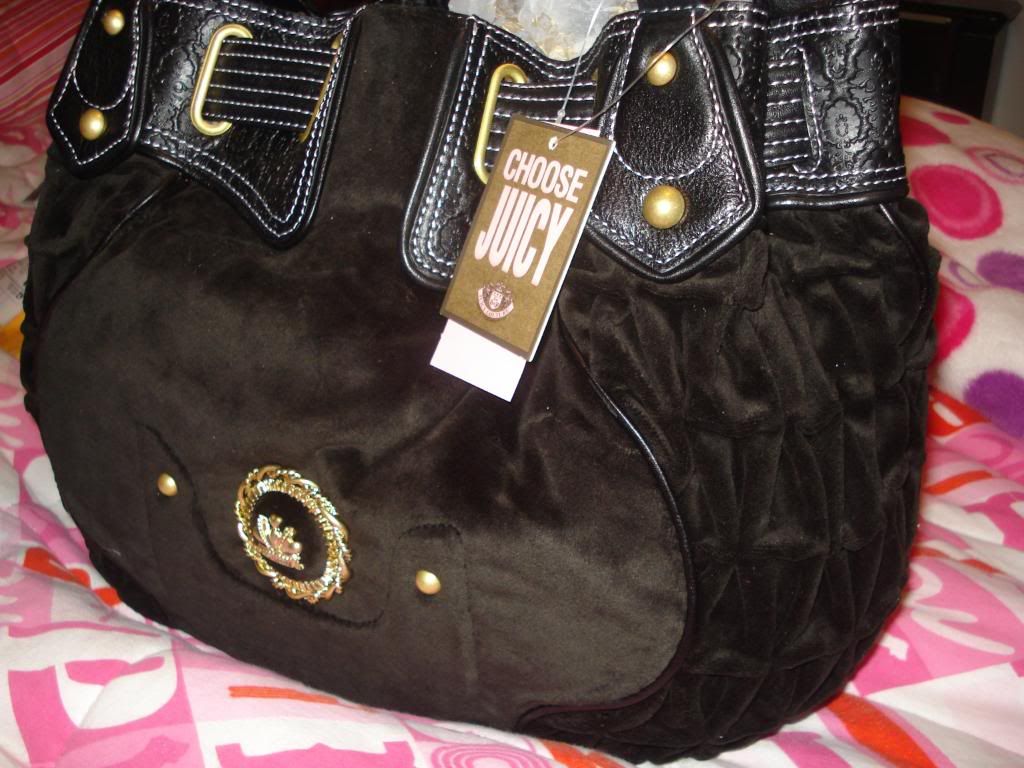 Marked down to $199.99!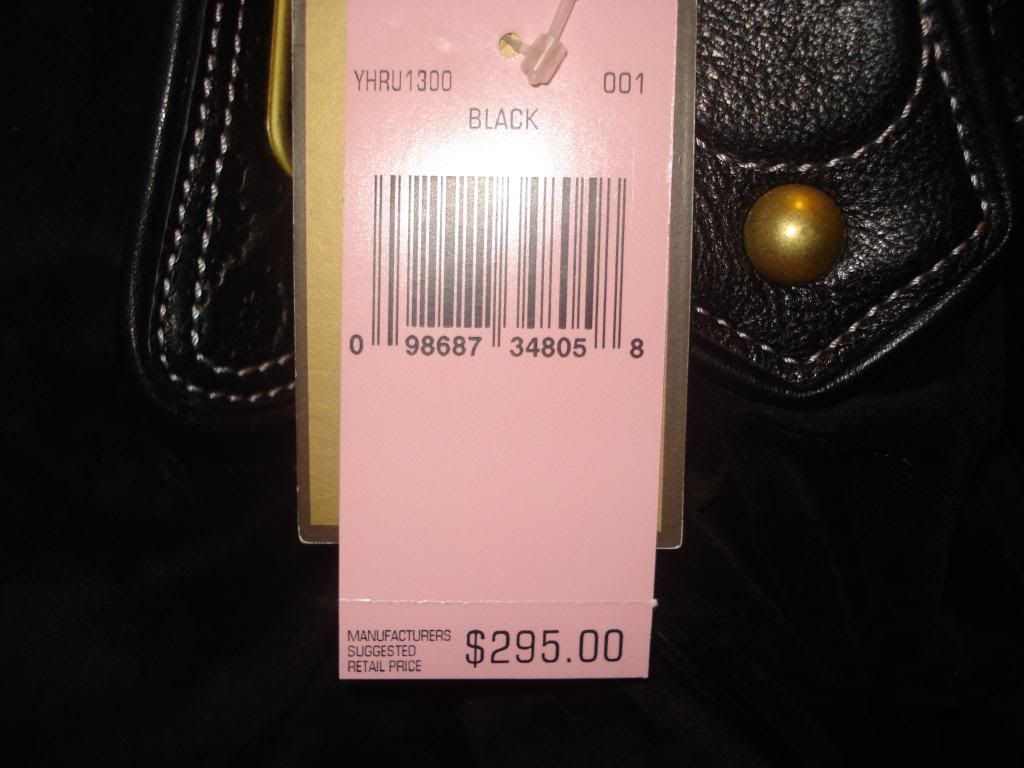 And I'll leave you with something cute I picked up at King of Prussia the other day...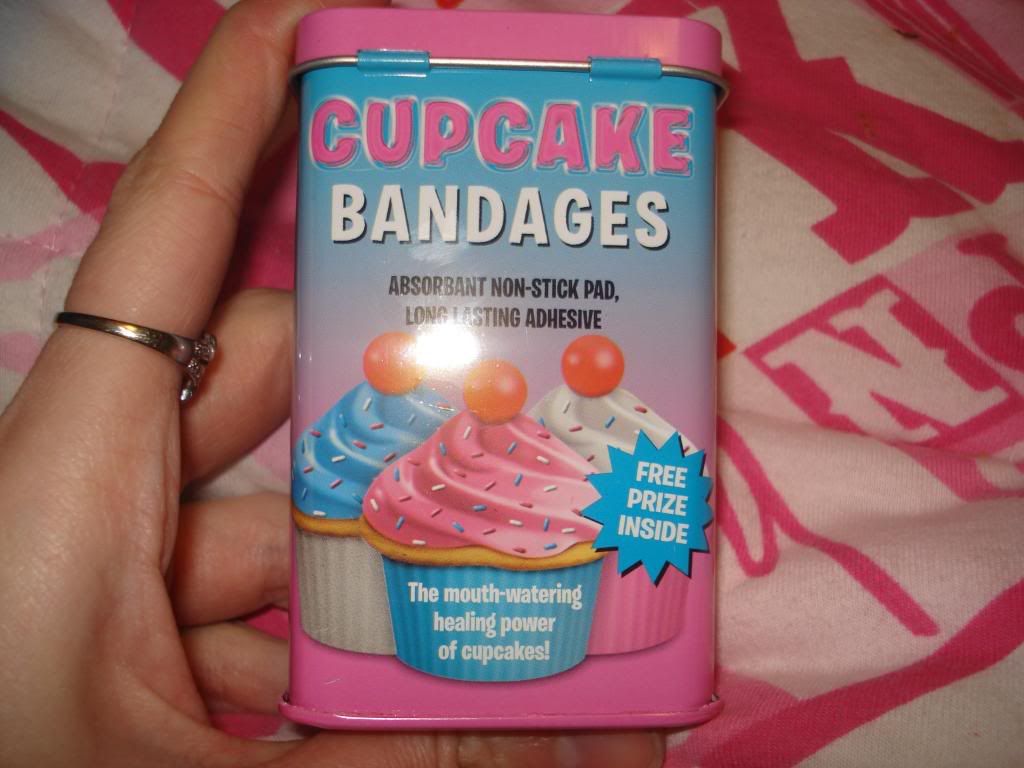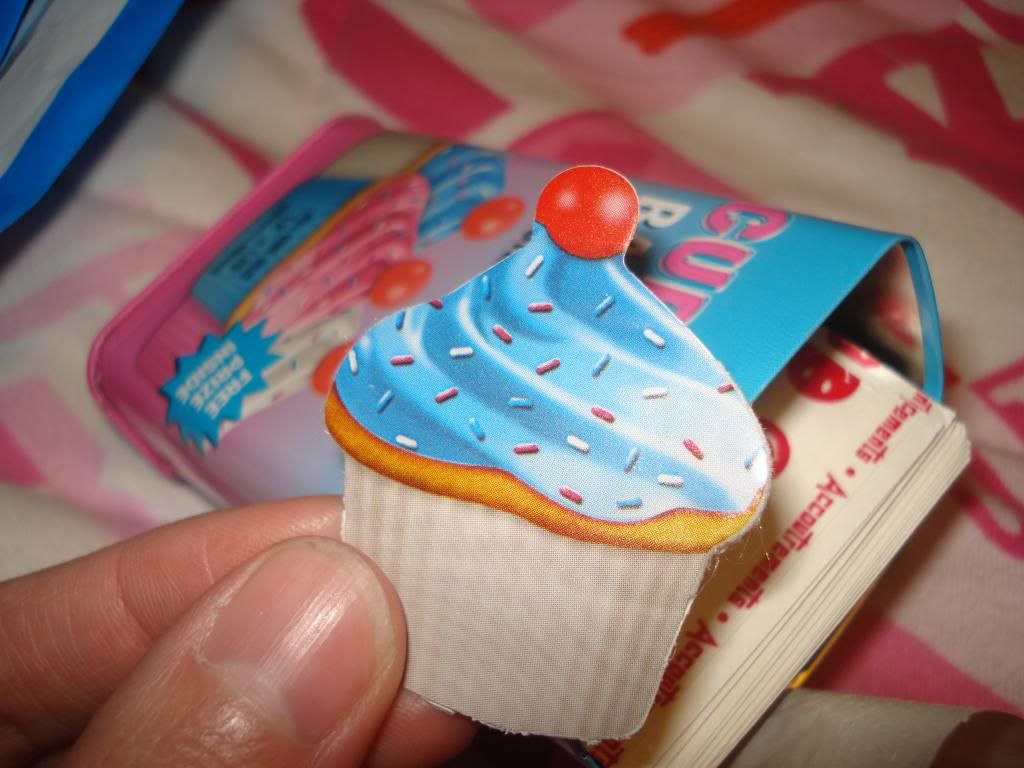 Wish I had a bruise just to show off my cupcake bandage!... haha anyway, super-long post! I know I know, but it was well needed!
I guess it was time for an update huh? I've been so busy with working so much now, with Christmas, friends birthdays, outings, John and I's 6 year anniversary, and just recently John's 24th birthday... It's officially too late to blog about my Christmas presents, so I decided I would just start with the most recent... John's birthday... he decided he wanted to go to Atlantic City for the night. We stayed at the wonderful Hilton! The night before we were up late playing



I love love love these tops because whenever I want to wear camis to work I really can't because I don't really have much to put over them! So I think this would be perfect...




How cute will this be for work with black tights and black boots!!! Maybe even a pink or pearl necklace??? Hmmm




I don't own any pencil skirts. Surprised? Me too! And since they're popular now, I guess I better cave in and get one!




Aren't these absolutely adorable and they're only $1.50!!!




I love love love berets!!! I think they are so cute! I already have a black one, now I need a cream colored one




These are called Winter Mood Leg Warmers. I got them in black/white becaue I thought they would look cute under my black uggs or even my grey uggs! Perfect for the season!




I love the belt on this, it'll go perfect with my new Juicy Couture boots!

So that's what I got for Christmas from my parents that I ordered. $78 not bad! I also ordered these for myself.
Here are some things I ordered for myself from Forever21.com thanks to my parents. It's for Christmas, but still! So here goes:
did lol It's out of control and I want it to be nice for the holidays, so I'm thinking about making an appointment to get it done. I want highlights in my hair again, but I dont want blond I want like a light light brown, something to contrast my hair color now and will stand out!!! :) I already talked to my hair stylist about it and she said she could do it. So I'll make an appointment for next Thursday or maybe even tomorrow! We'll see! I also wanna see if this one coupon will work with it! lol


How are everyone's holidays going?! Mine is going... going.. lol This friday I'm going out shopping and hopefully finishing up John! We'll see. I want to make a list tomorrow of everything I want to get him. Hmmm


School is almost over for me. Thank goodness!!!! I have about 7 more tests to go on top of assignments... and then back to my regular bloggin! Woot Woot! Anyway, I better get my butt going to work. This is my 6th day in a row *sighs*


Oh! If anyone is looking to buy Juicy Couture stuff cheap, it seems as though TJMaxx and Marshalls are getting things in, and for CHEAP! I mean 40% off cheap! It's their older stuff, but who cares! I don't! John bought me these wonderful knee socks from TJMaxx by Juicy Couture, and I'm still wearing them to this day...and that was from Sunday! haha We also found a cute wallet, but John didn't really like it, so we passed on it, and then I found a strawberry necklace by them for $24.99!!!! EEeekk! So John bought that for me, but said I can't have it before the holidays :( Pooie on hiM!


Anyway, hope everyone is well, and there's a little update.. so maybe by next week I could be back to my regular blogging!
So I really, really need to get my hair



So John wants me to write up a Christmas list for him tonite I guess he's gunna do some shopping for me tomorrow. :) Maybe I'll share when I'm done. But for now I'm going for a shower....
So it's just been absolute craziness for me lately. I have to work Friday to next Wednesday, 6 days in a row! Not to mention the infamous black friday was yesterday which *ahem* I worked 3:45 in the AM till 2:00 in the PM! 10 freakin hours of ungodlyness! lol I literally stood at the register for 10 hours straight ringing people out, now tell me that you wouldn't be tired and aggraviated at the same time?! Did i buy anything? NO! Well maybe a turtleneck for myself, but that was about it. Nothing more! I couldn't stand to go out in the craziness. I was safe behind my register! lol Today I worked 7:45 till 3:45 tomorrow I'm doing a 12-9. It's just gunna be nuts for me. And I have 3 tests due by Monday night at 10:00PM *sighs*